Prices
Shampoo Treatment
• Nail trimming
• Paw fur trimming
• Rear fur trimming
• Belly fur trimming
• Shampoo
• Dry
Cut & Trim
• Shampoo Treatment
- Plus -
• Ear Cleaning
• Head hair trim
• Leg hair trim
• Full body hair cut or shave
Close
¥3,780
¥6,500
West Highland White Terrier
Need Help?
We are happy to do simple or minor pet care services (i.e. shampoo or nail trimming only). Please
contact us
to confirm pricing.
For other breeds, please contact us. For Mixed breeds, pricing will depend on the size of the dog and length of hair. For thick or matted fur, additional costs may be charged. Please confirm with us.
We reserve the right to refuse service to dogs with medical conditions or aggresive/dangerous dogs.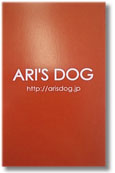 Loyalty Card
For every ¥1,080 you spend with us, you will earn 1 loyalty point.
Once you complete all stamps you will receive ¥5,500 off your pet's next treatment at Ari's Dog!
Loyalty points never expire.
NEW SERVICE!
Mist + Hot Spa + Teeth Cleaning: ¥540
Please try it!