Welcome to Ari's Dog!
Ari is crazy about dogs, and so she decided to open the small pet salon "Ari's Dog" in July 2009. Ari is happy everyday with lots of lovely dogs. They are all different,.. some are active and bark a lot, some are shy and quiet, some are friendly, and some are always scaried - but all dogs are special to Ari! We are like a kindergarden for dogs, and we will cherich your dog like our own, and we will grow up together!
Please visit us anytime - we look forward to seeing you soon!
For trimming and hotel services note that we are open from 10am to 6pm.
Please ensure you arrange for your pet to be collected before our closing time.
Ari's Approach!
Your dog is always free and not in a cage.
All dogs are relaxed and comfortable, and always have fun with us.
Sometimes I am like a kindergarden teacher and they are my students.
We always try to remove all stress for the dogs.
When your dog comes to visit, we like to take photos of them after their treatment and we will post them on our blog.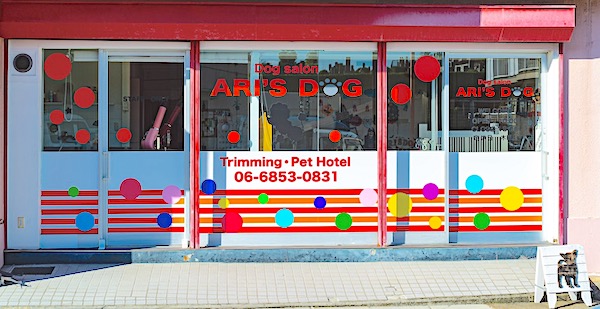 Ari's Dog - Trimming Salon
23-12-4 Kumano-Cho, Toyonaka-Shi, Osaka-Fu 560-0014
Tel/Fax: (06) 6853 0831
Mob: 070 8425 7127 (After Hours)
Open 10am - 6pm (Closed on Thursday)
Email:
News
If you need us to pick up or drop off your dog, you will only earn 1 point on your loyalty card. If you drop off or pick up yourself then you can earn the full points. This is because of the time and cost of fuel involved. We hope you understand.
NEW SERVICE!
Mist + Hot Spa + Teeth Cleaning: ¥540
Please try it!