About Us
I have a JKCB licence from Royal Grooming school.
I worked at the pet shop Jordan for 3½ years.
I left Jordan when the business closed.
Ari is crazy about dogs, and so she decided to open the small pet salon "Ari's Dog" in July 2009.
---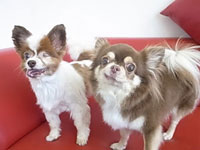 Yua & Boo
About Ari
I am a Pet trimer and I have a pet salon called "Ari's Dog" in Osaka, Toyonaka.
It is small, but finally I have my own shop!
I am still young, but I love my job and everyday I'm working hard doing what I love.

My favourite passtime is going to spa for relaxation.

I have 2 dogs - an angry little girl Papillon "Yua", and a care-free Chihuahua "Bou", and I take them to the salon sometimes.
Testimonials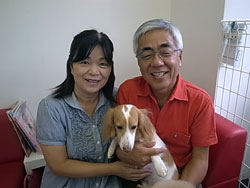 Chapi
We have confidence and trust the shop, which has a warm atmosphere and feels like home. We want to continue the relationship long into the future with all of us as one big family.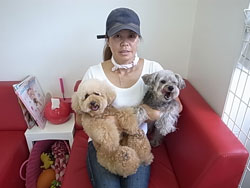 Canna & Coco
The furniture is red and white and I think it's cool. We have had a good relationship since the shop first opened.
We are very satisfied - each time they get cute necklaces and other accessories.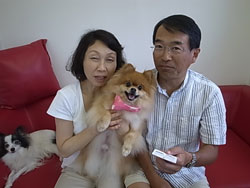 Sola
"I am Sola, a pomeranian. Even when I'm very naughty, Ari is very kind and generous. Maybe she likes me so much! Haha! When I stay at the hotel at Ari's place, my mum can go out without worrying about me. I want to get my hair cut soon so I can be a great looking pomeranian! And I can play with some friends at Ari's Dog. I miss Ari so much - I hope I see her soon!"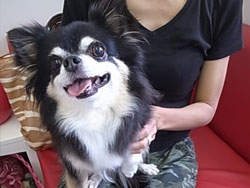 Choco
Choco (my dog) likes Ari a lot! He always wags his tail when Ari comes close. I know I can always rely on her. All dogs are looked after with love at Ari's Dog.